Shopping behaviors are changing rapidly across the global marketplace. The Consumer-Packaged Goods industry is witnessing waves of transformation. Organizations are revising their business models with changing consumer demographics and advanced technology.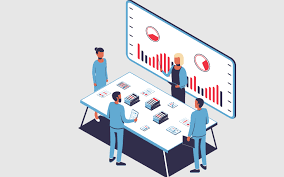 Today, Consumer packaged goods (CPG) organizations are exposed to humongous amounts of challenges which involve– value-conscious customers with fast-paced needs, economic and political uncertainty, and intensified cost pressure due to retailer consolidation, to name a few. Also, the surging competition puts further pressure on the companies in the industry. Numerous CPG players are winning big in the market by leveraging the potential of analytics to set themselves apart from the rest. Businesses can utilize data and analytics to analyze shopper attributes, set prices, and generate more granular insights. With the right analytics strategy in place, organizations can meet their objectives of better understanding their consumers to enhance their experience while reducing the costs by streamlining and strengthening the relationships with retailers.
Understanding CPG Analytics for Decision Making
The collation and evaluation of data from numerous sources that report retailer-level and customer-level sales data is known as CPG analytics. By recognizing and studying trends, CPG organizations can turn the data they collate into actionable information. For instance, imagine points on a graph. The points act for data, while the insights you obtain from examining that graph are analytics.
There are 3 different categories of analytics that organizations should consider: activity data, observational data, and sales data.
Activity data
Activity data typically refers to actions your sales team takes to improve sales in-store. Think about how often they work on specific accounts or what they are doing to cover their territory. Activity data assists in measuring and tracking the sales team's actions, which results in a better understanding of your brand's presence by analyzing customer demand within the store.
Observational data
In-store presence, competitive activity, and stock levels are just a few instances of observational data. This kind of data is reported by representatives who make in-store visits. You can also better understand your brand's presence by analyzing the demand for competitors within the store.
Sales Data
The third category of CPG analytics- Sales Data, refers to how much of your product is sold over time at different geographies. This provides you to see if there are specific locations where your product has more demand. utilizing this type of analytics, you can cater your marketing strategies to the locations where consumers purchase your product the most.
Explore some of the CPG Analytics Use Cases
Navigate through some of the use cases in which analytics can help retailers:
#1 Customer Segmentation
Traditional customer segmentation has numerous limitations, especially given today's complex customer landscape. Rather than relying only on age, location, and other demographics, analytics allows you to develop far superior customer segmentation based on buying behavior, customer journey, social media behavior, and other non-obvious factors that have a profound impact on sales. Understanding customer buying patterns and predicting customer behavior can help with better promotions, sourcing, and sales.
#2 Inventory management
Inventory control is one of the complex issues that retailers face. Maintaining the right stock, whether in stores or warehouses, is quite challenging. Being out of stock affects sales and consumer satisfaction while having too much stock throws big impacts on profitability. Closely tracking sales trends, buying patterns, and customer preferences can provide better inventory management. These insights can assist to drive more effective sales and marketing campaigns, explore sustainable and new ways to enhance efficiency across all channels and drive greater profitability and sales.
#3 Price and promotional analytics
Price and promotional analytics provide insights on factors that deliver and drive profits at different levels of consumer base, markets, and brands. It allows the creation of optimum prices by understanding the consumer' behavior concerning price changes. Evaluating customer behavior through social media interactions is another method to strategize promotional and marketing solutions. Businesses can capitalize on growth opportunities and link marketing and sales dynamically and holistically.
#4 Product Affinity
Analyzing shopping behavior to identify what products are generally bought together can lead to better product placement (in-store or online). For example, suppose your data shows that people will likely buy bread, eggs, and butter together. In that scenario, it makes sense to stock them together rather than follow traditional divisions (dairy, Bakery, and more.) While the above instance is intuitive, there are several instances where the affinity might not be so apparent. Data can reveal these trends. Re-doing the store layout as per your product affinity analytics can help improve sales
#5 Revenue-Growth Management
It is the new buzzword in the world of business. Top organizations in the CPG industry are increasingly investing in cutting-edge RGM technologies and advanced data and analytics techniques for activities ranging from setting day-to-day shelf prices to trade investments. D&A should play an active role even in adjustments made to the SKU portfolios. Moreover, to persuade retailers to adopt the proposed changes, CPG companies can cite the financial benefits for the retailer and make use of qualitative consumer research to back the decision.
Conclusion
As we can see, the value created by investing in CPG data analytics is exponential. In the short term, tracking CPG data gives you a highly accurate snapshot of what is going on in multiple retailers in real-time. If your growth strategy is mean and lean, Polestar Solutions analytics consultants can harness the power of CPG data and analytics. Contact us today to see what our analytics experts can do for your business.