The way technology has changed the whole scenario of marketing automation, businesses no more rely on the traditional marketing technique.
Nowadays, digital marketing is the topmost need of all businesses for lead generation, brand awareness, promotion, and much more.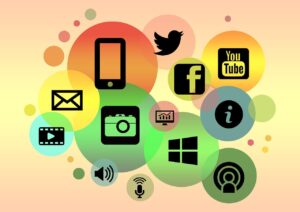 It has evolved more with the introduction of endless digital marketing tools empowered with marketing automation and many other features.
Thus, this is the time of digital marketing automation and the businesses using it are enjoying the high annual gross profit.
According to Salesforce, those using automation have seen an increase in the conversion rate by 30% or more
It is highly recommended to incorporate them in your business too if you want to sustain in your industry, save operational costs, and connect with new clients.
Or else,
Your competitor will spread its food in your market segment, which will reduce your customer base.
We know you don't want this situation to arise.
Therefore,
We are here to help you out in knowing how you can leverage digital marketing tools and automation in your business.
What is Marketing Automation?
Marketing automation is the set of all software and technologies designed for marketing in organizations. It helps in handling repetitive tasks and performing marketing on various channels effectively.
With its implementation in your digital marketing effort, you can reduce the chances of human error and achieve results faster.
Along with that, you can deploy marketing automation for monitoring marketing activities.
How can you deploy marketing automation in your business?
Choose the Right Tool
Choosing the right tool is the foremost thing when it comes to marketing automation. And it needs to be done only after considering your company's budget and knowing the requirements.
Also, it must align with your goals so be you have to be careful while making any decision for marketing automation software.
The majority of them are affordable so take care of your company's budget by making an affordable choice.
If you want to make any choice then you have many options from an email marketing tool, lead management, analytics, etc.
Run Email Campaign with Marketing Automation
Your email list is a big asset in terms of selling purposes. Hence, start building it in a professional manner rather than just purchasing from different sources. Doing this will save you from a lot of extra costs.
You can use a box, email opt-ins for building an email list, which will help you in the future for marketing and building an email list.
For this, get an email marketing tool, as you will have to start an email marketing campaign.
Improve Customer Relationship
Keeping a good relationship with the customers will help your company in growing it abundantly.
You can use marketing automation tools such as Chatbot for streamlining the conversation and customer-business relationship.
Chabot is designed for two-way communication that works by mimicking human interaction.
It can be added on social media platforms to block the simplify the communication process.
Setup Automated Nurturing
No visitors wish to become a customer immediately after opening your website.
They explore the site, collect a coupon, or sign up for the newsletter.
But, you want conversions and in that case, only automated nurturing can make it possible.
There are much lead nurturing software like LeadSquared to set up automated nurturing.
Final Thoughts
Marketing automation and digital marketing tools are turning into the backbone of the marketing department. They have made many tasks easier for the marketing managers.
If you are in search of the best marketing automation and digital marketing tools for your business, Toolforbusiness.com is the platform where you can find details of any such software.